bak-tec GmbH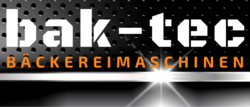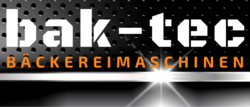 bak-tec GmbH from Babenhausen:
Die bak-tec GmbH ist ein zuverlässiger Partner für Konditoreien, Bäckereien und die Backindustrie.

Wir liefern sowohl neue als auch gebrauchte und überholte Bäckereimaschinen in ganz Deutschland und in alle Länder weltweit.

Die Firma bak-tec GmbH wurde im Jahr 2003 gegründet und hat heute ihren Sitz in Babenhausen bei Aschaffenburg.
Seit 2019 führen die Gebrüder Pascal & Nico Fleckenstein das Unternehmen als geschäftsführende Gesellschafter fort.
Seither verbinden wir unsere Tradition als mittelständisches Familienunternehmen mit einer wachstumsorientierten und zukunftsweisenden Unternehmensstruktur.

Wir haben schon einiges erreicht – und noch viel vor.
Auf unser starkes Netzwerk von Lieferanten, Partnern und externen Dienstleistern können wir jederzeit zählen.
Als stolzer Partner der BÄKO Genossenschaft haben wir mit gemeinschaftlicher Zusammenarbeit kleinere und große Projekte verwirklicht. Bald auch Ihres?

Mit unserem Team von 9 kompetenten Fachleuten decken wir das komplette Spektrum rund um das Bäcker- & Konditorenhandwerk ab.

Unser bak-tec-shop bietet Ihnen online über 3.000 Artikel:
Ersatzteile von Bäckereimaschinen, Zubehör, Möbel und Kleingeräte

Unsere Kunden sind alle backenden Betriebe:
- moderne Filialbäckereien
- traditionelle Handwerksbäckereien
- prozessorientierte Industriebäckereien

Unsere Leistungen:
- Ankauf, Vermittlung und Verkauf
- Überholung auf höchstem Niveau, Modernisierung und kundenspezifischer Umbau
- Beratung und Planung
- schnelle Lieferung und ständige Auswahl an Maschinen in unserem Lager
- Projektmanagement, Demontage sowie Montage und Inbetriebnahme
- Technische Beratung beim Kauf der Maschinen
- Wertermittlung Ihrer Gebrauchtmaschinen
- Inbetriebnahme von Maschinen und Anlagen
- Erstellung von Zolldokumenten
Mr Pascal Fleckenstein
Industriestraße 11
64832 Babenhausen
Germany
Hessen
---
further legal information
Vertretungsberechtigte Geschäftsführer:
Pascal Fleckenstein, Nicolai Fleckenstein

Handelsregister Darmstadt HRB 89407

Inhaltlich Verantwortlicher gemäß 10 Absatz 3 MDStV: Nicolai Fleckenstein
Haftungshinweis:
Trotz sorgfältiger inhaltlicher Kontrolle übernehmen wir keine Haftung für die Inhalte externer Links. Für den Inhalt der verlinkten Seiten sind ausschließlich deren Betreiber verantwortlich.

Technische Probleme:
Bei Technischen Problemen mit der Webseite, können Sie sich direkt an den Webmaster wenden: info(at)bak-tec.de
Discover more used machines
This dealer has been successfully verified and was awarded the Machineseeker Trust Seal.
Current classifieds & top offers:
Send inquiry to bak-tec GmbH:
More classifieds & machinery offers: